Ever go shopping looking for something in particular, but come home with everything but that? Yeah, today was one of those days for me.
Since I'm going to Vegas next week, I went shopping for some clothes to keep me cool in the hot 100+ weather, but came home with Michael Kors dress pants and BCBG sandals. Hey, at least I can take the sandals with me! ;p
Speaking of Vegas, I am still at loss for what to do in Vegas.
Problem? A bit. Anyone have any ideas for me??!
Anyways, what I bought.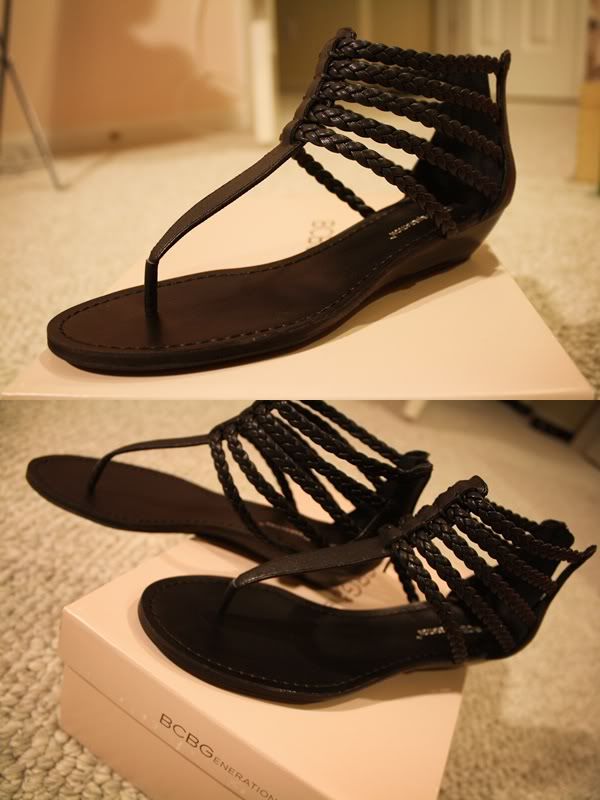 Since this is my first "shopping" post, it's not readily apparent, but I've been into braided details lately, so I couldn't pass these sale BCBG braid-strapped sandals! Super comfy to the point where I don't even have to break them in. YAY! I love comfortable shoes!
I'm not particularly fond of the classic black dress pants so I love love love it when I find black dress pants that are a little different, like these! These are skinny around the ankles, fold over at the top and are buttoned through the folds which gives a slightly slouched look in the crotch area. This picture doesn't do it justice and my description probably doesn't either. I'll have to wear them out one day and take pictures to make up for it. ;p
So that makes two posts I've put a rain check on!:
a post on my newer brown circle lenses and a post with my new MK dress pants.